December 2022 Course Update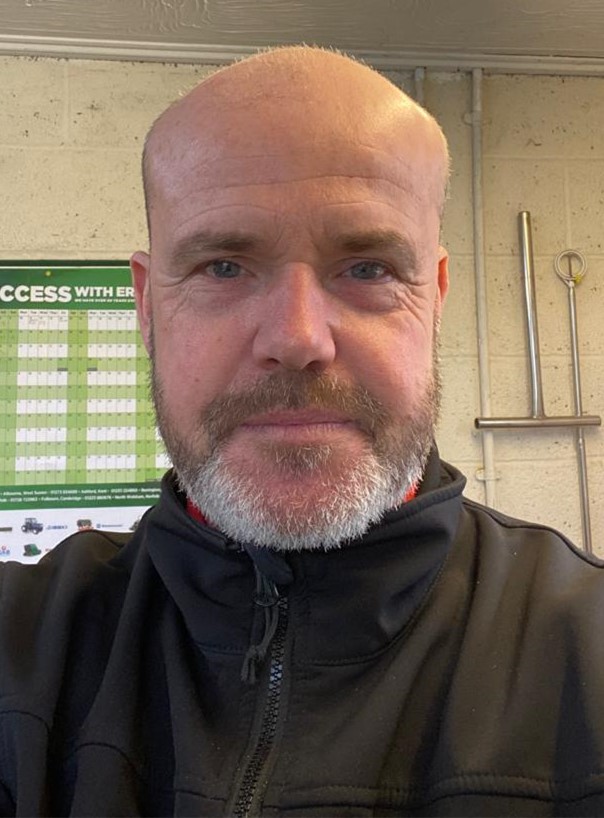 Thankfully the rain we have had has at last come to a stop, for the time being at least.
Since we started our bunker project on the 17th September it seemed to not stop. We recorded 193.5mm (that's nearly 8" in old money!) in the 6 weeks after the work started, making it very hard to get on with the phase 2 of the project, which was to be done in-house by my team.
The 5 weeks prior to the work starting we had 24mm in total, so this shows what we were up against.
The rain has not only had an effect on the projects we are doing but also made it difficult to get buggies out for those who need them. This is never a pleasant decision to have to make as we all like to see our members enjoying their golf course but on occasions over the past 2 months the course has quite simply not been safe enough for buggy use.
That being said the last 2 weeks have dried up nicely and now we are experiencing some frozen weather you can all get out to enjoy the course, though please take care because in places it can still be very slippery.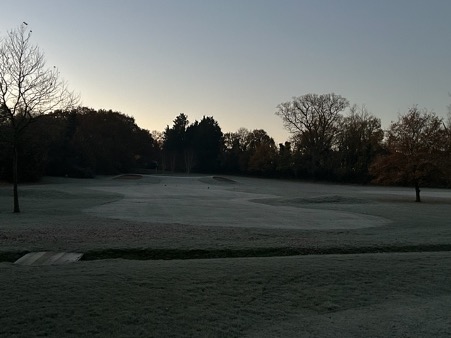 Greens
The greens have been constant battle up 'til this week's cold snap.
The mild temperatures and high humidity have meant perfect conditions for fusarium to develop and spread. The rule that I work by is that anything over 8 hours of 90% humidity means that you are likely to have an attack. At times at the end of November we were having almost 72 hours of 90% plus of humidity, the mild temperatures meaning we were still having plenty of growth also didn't help as the fungicides we were applying were not staying in the plant long before growing out.
As we stand today, I am reasonably satisfied with how we have dealt with it though hopefully next year we will be in a better position to fight it off naturally.
As the greens at Bush Hill are soil construction, built up on clay, it is not usually a good idea to spike them during the winter months as the water can sit in the channels made by the spikes and make the green softer and wetter. But when to get a very cold and more importantly dry period as we are experiencing it is gives us a chance to get out and aerate the greens. We have taken full advantage of the conditions and sent out our new aeration machine to give the greens a spike this week. This will allow air into the profile, reduce organic matter and give us some space for roots to push deeper into the rootzone.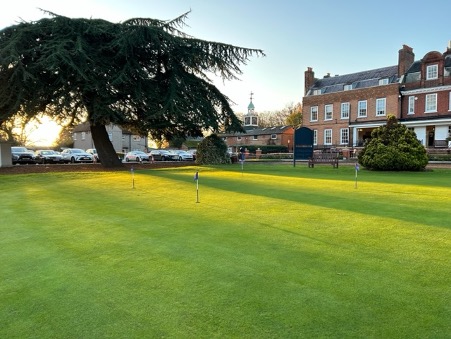 Tees and Approaches
We have been able to get out this week and mow any tees or approaches that were in need of it.
The soil conditioner we applied in early October seems to have run its course as I am noticing some fresh worm cast activity. I do still have some in stock so when the weather starts to turn wet again, we will apply some more.
The tees are holding up pretty well at the moment despite being played on which is a pleasant development, but we will continue to monitor them as we get into the new year.
Fairways
Again, we have been able to get a mower out on fairways thanks to the drier conditions.
Rough
When I started greenkeeping nearly 30 years ago the thought of mowing in a frost would have sent my old Head greenkeeper into furious rage.
It is though something which is being done more and more regularly these days as it means you can mow areas that have been too wet or covered in worm casts without making a mess, it is definitely a by-product of us losing the worm suppressant Carbendazim.
This is something that me, Leigh and Andy have all done this week meaning that the majority of the rough has been cut this week which, something which was in desperate need of doing as some areas were getting very long.
Course protection
Thank you all for following the post and ropes that we have put out, these are for your own protection as well as for the benefit of the course.
Leigh and I are currently monitoring areas to see if the ropes need moving or if more need putting up.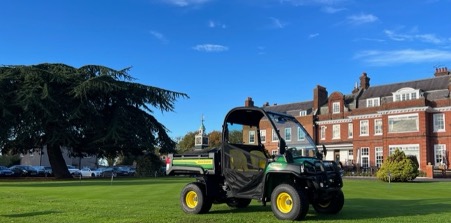 Machinery
We have at long last finally received our John Deere Gator utility vehicle, this will allow us to get more work done around the course and help us keep the tees in good repair this winter.
Leaf Collection
We are now getting to the point where the leaves are falling thick and fast on the course.
We are currently getting them into big piles so as we can collect them whilst the ground is firm with our leaf collector.
Of course as is life we are currently waiting for a delivery of a new alternator for the tractor which should come early next week and then we can get on with the job of cleaning up the piles.
Projects
We have taken full advantage of the dry conditions to get the 5 new bunkers lined with turf, edged with real turf revettes and backfilled and dressed ready for turfing.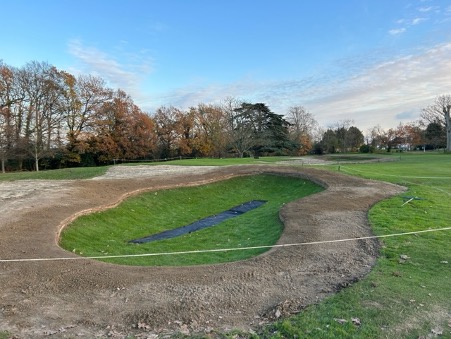 Myself and Leigh are very happy with how they have come along and Leigh and Sam have worked very hard this week to get the final grading done so we are in a position to turf.
I would like to get them turfed before Christmas but this will depend on the temperatures and logistics of the when the driveway is re-surfaced.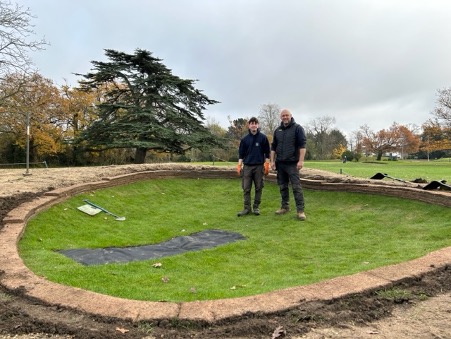 One point we have noted though is the amount of golfers who are under the misinterpretation that we have built grass bunkers.
The turf that has been laid inside the bunkers will act as a liner, we have put them grass side up because when the turf roots into the base then it lasts longer and is stronger to prevent stones coming through.
We have put in a wall of turf as a barrier around the edge again to stop stones falling in.
Once the turf has taken it will be weed killed and then we will add the sand.
Both Leigh and I would like to thank the members for the positive feedback we have received.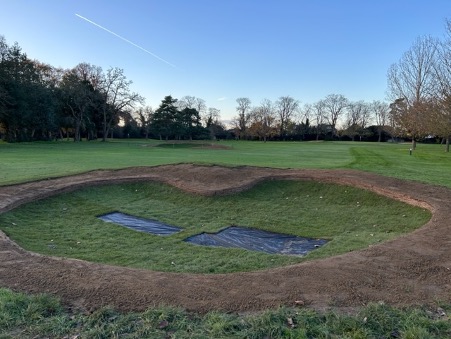 You also may have noticed that Leigh also started some of our path projects by extending the 3rd path back towards the gates near the 2nd green. This area was incredibly wet so this will allow access for members and staff through this part of the course without getting stuck or making a mess.
This Path will also be extended towards the fairway on 3, we have currently recycled nearly 60 tonnes of the road Plannings from the driveway which we will use as a base to our new paths before adding finer material to finish the job.
On Behalf of my team and I, I hope you enjoy the drier conditions of the next couple of weeks because you never know what's round the corner.
Thank you
Damien